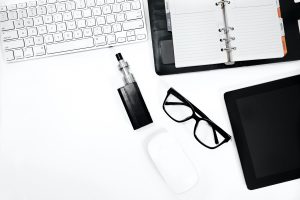 The health of our businesses during these uncertain times may be called "sickly" but the health of your employees and your bottom line doesn't have to be. While we know cigarettes are a danger to your health, we are just now learning the risks associated with vaping.  This trendy new method of nicotine delivery may not only be affecting your employees who vape, but also those who don't.
FACTS
Vaping is also known as e-cigarettes, e-cigs, and vape pens. The electronic cigarette was first developed in 2003 by a Chinese inventor, Han Lik. The way it works is the vape device heats up a cartridge of nicotine, flavorings, and other chemicals. Once heated, this mixture turns into an aerosol the user can inhale and then exhale a vapor. Since its introduction over 15 years ago, the use of e-cigs has grown exponentially as people believe that this device and vapors are a better alternative to smoking. While not more harmful than traditional cigarettes, using vape devices is definitely not "safe."
HEALTH RISK
Because it is such a new product, experts are still learning how it affects users. Findings have shown that some of the chemicals that make up the cartridge used to deliver nicotine are linked to serious health issues and even cancer. Recently there's been an uptick in the number of hospitalizations of young adults with lung disease as a result of vaping. It is also widely available to purchase extra-strength cartridges with double the amount of nicotine in a traditional cigarette. Users are easily addicted to this nicotine which leads to an increase in their use and an increase of long-term health issues.
VAPING IN THE WORKPLACE
As with any addiction, vaping use has spilled over into the workplace.  Cigarette smokers usually cost their employer around $5, 800 a year. This is attributed to higher healthcare expenses and lower productivity of smokers due to frequent smoke breaks and greater absenteeism.  Those who are non-smokers report that they believe that their own productivity is decreased when their co-workers are allowed to vape in their workspace. Not only that, but the Americans with Disabilities Act (ADA) says that there have been an increased number of those claiming to have odor and chemical sensitivities.  This group of people may request coverage under the ADA and therefore the employer must make accommodations in the workplace to protect them and this cost goes against the business' bottom line.
WRITING POLICY
The number one way to combat the issue of vaping in the workplace is to cover it under your current non-smoking policy.  If your business does not have a written non-smoking policy, that should be your first action point to tackle. There are currently 13 states that have banned vaping in the workplace including California, Colorado, Delaware, Florida, Hawaii, Maine, New Jersey, New York, North Dakota, Oregon, Rhode Island, Utah, and Vermont. Banning smoking of any sort in the workplace is a good start. Also, a part of this policy should include the business' means of supporting some sort of smoking cessation program. For example, the EX program (developed by the Truth Initiative and the Mayo Clinic) gives employers a way to virtually support not only those who are trying to kick the habit, but also incentivizing your workforce to never start smoking. Once you have written this non-smoking policy, introduce it to your employees and then give them a timeframe of 60-90 days to comply.
CONCLUSION
Vaping is definitely a danger for the workplace. Both the smokers and the non-smokers are affected by the vapor of chemicals that is emitted from the vaping device. The best way to protect both groups of people is to write a non-vaping policy into your current non-smoking policy. Not only does this benefit both groups, it will benefit your bottom line.