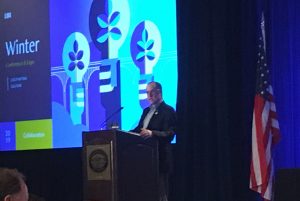 Last month we had the pleasure of sending two of our own to the United Benefit Advisors' Winter Conference. These conferences provide ample opportunity for continued education and professional growth in an industry that can't seem to stand still.
This year we had the pleasure of hearing from Tim Arnold, of StoryBranding, who gave a compelling keynote address on efficiencies of building client connections. StoryBranding has particularly challenged us to revisit our current methods of communication with new and existing clients.
UBA Conferences never cease to demonstrate these power of networking and wisdom sharing. Seen in picture one is just a handful of UBA partners that represent five states, Alaska, California, Massachusetts, North Carolina, and Pennsylvania. UBA Partner and former NAHU president, Mike Embry, was also in attendance to deliver legislative updates.
In addition to celebrating the national reach of the UBA network, we were excited to hear from a Raleigh speaker, Walt Brown,  during a general session.  Brown recently released his book, "The Patient Organization," which dives into the operational efficiencies of the work place. Brown encourages employers to uplift their companies from within by creating business models that strive for efficiency by acting for employees instead of against them.
With the Spring Conference approaching and a month of 2019 behind us, we couldn't help but pause and reflect on growth and fresh insight already attained this year.