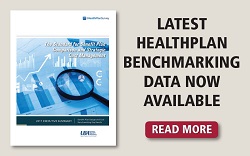 We recently unveiled the latest findings from our 2017 Health Plan Survey. With data on 20,099 health plans sponsored by 11,221 employers, the UBA survey is nearly three times larger than the next two of the nation's largest health plan benchmarking surveys combined. Here are the top trends at a glance.
Cost-shifting, plan changes, and other protections influenced rates

Sustained prevalence of and enrollment in lower-cost consumer-driven health plans (CDHPs) and health maintenance organization (HMO) plans kept rates lower.
For yet another year, "grandmothered" employers continue to have the options they need to select cheaper plans (ACA-compliant community-rated plans versus pre-ACA composite/health-rated plans) depending on the health status of their groups.
Increased out-of-network deductibles and out-of-pocket maximums, with greater increases for single coverage rather than family coverage, as well as prescription drug cost shifting, are among the plan design changes influencing premiums.
UBA Partners leveraged their bargaining power.
Overall costs continue to vary significantly by industry and geography
Retail, construction, and hospitality employees cost the least to cover; government employees (the historical cost leader) continue to cost among the most.
As in 2016, plans in the Northeast cost the most and plans in the Central U.S. cost the least.
Retail and construction employees contribute above average to their plans, so those employers bear even less of the already low costs in these industries, while government employers pass on the least cost to employees despite having the richest plans.
Plan design changes strained employees financially
Employee contributions are up, while employer contributions toward total costs remained nearly the same.
Although copays are holding steady, out-of-network deductibles and out-of-pocket maximums are rising.
Pharmacy benefits have even more tiers and coinsurance, shifting more prescription drug costs to employees.
PPOs, CDHPs have the biggest impact
Preferred provider organization (PPO) plans cost more than average, but still dominate the market.
Consumer-driven health plans (CDHPs) cost less than average and enrollment is increasing.
Wellness programs are on the rise despite increased regulations and scrutiny
Metal levels drive plan decisions
Most plans are at the gold or platinum metal level reflecting employers' desire to keep coverage high. In the future, we expect this to change since it will be more difficult to meet the ACA metal level requirements and still keep rates in check.
Key trends to watch
Slow, but steady: increase in self-funding, particularly for small groups.
Cautious trend: increased CDHP prevalence/enrollment.
Rapidly emerging: increase of five-tier and six-tier prescription drug plans.
By Bill Olson
Originally posted by WWW.UBABenefits.com