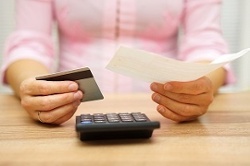 The importance of health and wellness in the workplace is more apparent than ever. It's obvious why healthy individuals make better employees and the positive impact this has on your bottom line. When thinking about building a program to improve the well-being of your employees, don't forget about the importance of their financial health.
In recent years, studies show that employees have a wide range of financial concerns that affect their work. Some financial issues are widespread, impacting a large number of employees, while others may be more unique based on an employee's specific circumstances.
Financial stress in the workplace influences productivity, absenteeism, physical health, emotional well-being, and the overall happiness of employees. Nearly 25 percent of employees confirm personal finance issues are a distraction at work and 39 percent say they spend three hours or more each week at work dealing with personal financial issues.1
Some of the biggest financial stressors impacting employees today include:
Student loan debt – 2 million Americans collectively owe $1.3 trillion in student loans – that's more than credit card and auto loan debt, and second only to mortgage debt 2
Retirement savings – 56 percent of Americans have less than $10,000 in retirement savings 3
Emergency funds – 46 percent are unable to cover a $400 emergency 4
Other debt – 48 percent of Americans have more credit card debt than savings 5
Unfortunately, financial stress can go unnoticed because it is usually not as openly discussed or addressed. Discussing personal finance with co-workers and even family members is still considered difficult for many. This makes it even more important to have a program in place to educate and empower your employees to make positive financial decisions.
There are a wide variety of financial wellness programs and services available. When developing a program, be sure that you include both educational resources and tools that support behavioral change.
Educational resources – Education is the backbone to any financial wellness program. Remember, financial issues can impact anyone in your company and not everyone learns the same way. Offer a variety of resources including workshops, seminars, books, online courses and access to financial consultations. It's important to assure employees that they are in a safe environment where they can learn and feel comfortable asking questions and seeking more information.
Empowering behavioral change – Financial wellness doesn't stop with education. Worksheets, budgeting tools, financial consultants, loan repayment plans and retirement savings plans are all tools that aid employees in making long-term behavioral changes that improve their financial health. Celebrating the small successes early on will help employees commit to making more long-term changes. Be sure to have programs in place that offer the tools and resources needed for employees to set goals, change their behavior and celebrate their success.
Consult with your Employee Assistance Program about resources they may have to help you develop a financial wellness program and empower your employees to get on the path to financial health.
By Nancy Cannon
Originally posted by www.UBABenefits.com